Hi all
I cannot believe it Thursday already where has the week gone, we start our weekend here tomorrow so hubby has Friday and Saturday off, he has a really bad cold, getting a cold really knocks him for six and makes him very tired but otherwise he is doing very well, the treatment he is on is doing its work and I have never seen him looking so good for ages, so thankful.
Onto my card for today and it's a card for Catch the Bug challenge which is Clean and Simple ok I am not good at this as I like my flowers and pearls etc but the temptation was too much and I had to put bling in the corners lol.
Now the inside! This is a first for me, plain and just 1 line of message now how clean and simple is that!
Challenges
Catch the Bug
– Clean and Simple
All Sorts
– Free – Easy
Aud's Sentiments
– At Least 2 Words
News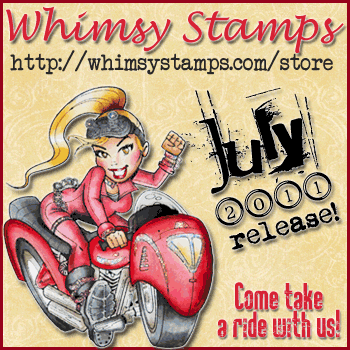 This month Whimsy Stamps are doing things a little differently - they are releasing the stamps and dies a whole week before their new release blog hop!
Don't miss out!
Thanks for popping in to see me, I do love to see you here and hope you enjoy my creations, well I hope you enjoy them as much as I enjoy creating them, have a great day all and see you soon.