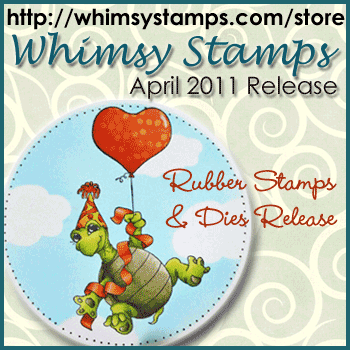 Hello and welcome to the Whimsy Stamps April new rubber release BLOG HOP!
I shall be giving you details of Whimsy blog hop today I will not be participating in this one but I hope you all will because there's a lot going on and so much fun too.
We have 13 fabulous new
Whimsy Stamps
plus 2 new wonderful
dies
to show you today! These new goodies are available to buy right now from the
Whimsy Stamps store
along with all your Whimsy favourites. We also have our wonderful special guests joining us for this hop -
Beate Johns
,
Deb Routledge
,
Jacque Beddingfield
,
Mindy Baxter
and
Minna Paajanen
.
The Whimsy Stamps DT have been
sneak peeking
these fabulous stamps for the past 5 days, so if you missed them be sure to hop on over to the
Whimsy Inspirations Blog
for some more inspiration!
Here is a full list of the wonderful new rubber stamps and dies being released today:
3 stamps from Crissy Armstrong
Big Comfy Cake ~ Come Fly With Me ~ Cupcake Bliss

3 stamps from Meljen's Designs
Curious Little Fairy ~ Fairy Toadstools ~ Little Fairy Friend

4 stamps from Kenny K
Biker Babe ~ Cheers Dude ~ Madison Attitude ~ Soho

3 stamps/sets from Raindrop Echo Designs
Everyday Mini Postage Stamps ~ Party Mini Letter Seals ~ Postcard Background

2 dies/sets from Raindrop Echo Designs
Mini Postage Die ~ Double Scallop Tag Die
If you would like to participate in the hopit begins at
Annika's blog
.
The hop starts today (Wednesday April 13th at noon EST) and ends on
Wednesday April 20th
at noon EST.
For this hop we have 6 different prize draws! We have not one but
TWO grand prize draws
, so two lucky hoppers will win a large selection of new release stamps.
Grand Prize 1
will be for those who help us advertise the hop, and
Grand Prize 2
will be for those who hop along with us. We also have
4 mini candy stops
throughout the hop where you can enter to win a new release stamp! I'm not going to tell you where they are, so if you haven't found them you'll just have go back to the beginning and start hopping! *wink*
I was going to show this card for the sneek peek yesterday but I forgot oops.
I used Kenny K stamp called Madison Attitude, I coloured her with Copic and the papers are from K Co, I finished off with flowers the white ones I inked to get the colour I wanted and sprayed with glimmer mist, I used a EK punch down the side a and finished with pearls.
Finally, here is a complete blog hop list in hopping order:
Well that's it for today and thank you for popping by to see me, I really appreciate it, I hope you all have a great day and happy hopping.
Hugs,